Management & Supervisory Board
Responsible Leadership for a Sustainable Future
Trustworthy and transparent management enables IBU-tec to be a good corporate citizen, and to achieve the best value for our customers. A central component of our mission is to maintain the right balance between disciplined leadership and maintaining the entrepreneurial spirit of innovation.
Ulrich Weitz has been with IBU-tec since 2000 and developed the company into its present form. Following his engineering studies, he worked for the elevator manufacturer OTIS in Paris and held management positions in quality management, design and production. He later moved to Winkler + Dünnebier AG to become Factory Manager. While there Mr. Weitz was responsible for more than 750 employees.
Jörg Leinenbach has been in charge of Commercial Management since 2015. Before joining IBU-tec, he worked for Prego Services GmbH in Saarbrücken as the Head of Strategic Management and Control. He has a business degree from the University of the Saarland with majors in Auditing, Fiduciary Management and Taxation Law. During the course of his career, he has held various positions in Accounting, Controlling and Participation Management.
Robert Suesse, Director Business Development
Robert Suesse heads the Sales and Business Development Department. In his previous career as an independent business consultant working on international projects, he was able to garner valuable experience in business development and oversee the execution of strategic projects around the world. He leads the Sales Team, connecting IBU-tec with customers in order to create increased joint value. Previously, he worked in an international capacity for the SMS Group as VP for Corporate Development Asia and as a Project Leader for Roland Berger Strategy Consultants. He has a degree in Engineering Management for Mechanical Engineering from Ilmenau University of Technology and an MBA in Entrepreneurship & Operations Management from the University of Wisconsin-Madison, USA.
Dr. Toralf Rensch, Division Manager Operations/Technology
Dr. Thomas Wocadlo, Division Manager Plant Optimization & Engineering
Dr. Wocadlo holds a doctorate from TU-Dortmund in the field of Thermal Soil Remediation using rotary kilns. Following his studies, he worked at MAN GHH on further developing this technology for use in waste management. After being CEO of an industrial boiler manufacturer, he moved on to various management positions in business development, marketing and sales at companies such as ALSTOM, Viessmann and Infraserv Gendorf. At IBU-tec, Dr. Wocadlo leads the Process & Plant Optimization Department.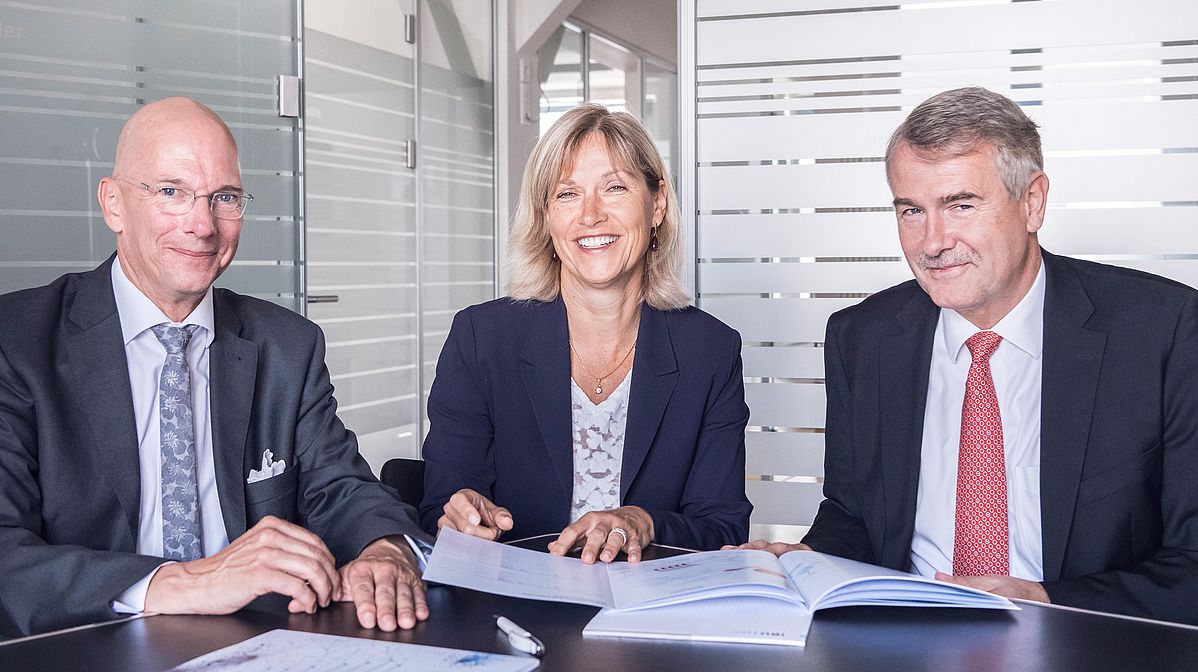 The supervisory board of IBU-tec meets several times a year to discuss the company's activities and management decisions.
Dr. Jens Thomas Thau / Berlin
Dr. Jens Thomas Thau is a lawyer, specializing in Employment Law. He has been a member (and vice-chairman) of the supervisory board since 2012 and acts as legal advisor to the company. Following his university studies in Berlin and New York, he worked as an academic researcher, a coach for legal examinations, and as a lawyer. In his current position, Dr. Thau is Chairman of the EBF Banking Committee for European Social Affairs, Co-Chair and Chief Legal Counsel of AGV Banken (The Employers' Association of Private Banks). Dr. Thau is also a partner in his own legal firm.
Sandrine Cailleteau / Paris
Sandrine Cailleteau has been a member of the supervisory since 2009. She holds a degree in Political Science and an MBA. After her MBA studies, she worked for several years as a Licensing Project Director for Sanofi and held a variety of positions at the leading edge pharmaceutical companies Fournier Pharma and Hesperion, as well as the investment banking firm, Michel Dyens & Co. She currently is CEO of SCiH Advisory, which she founded in 2013.
Dr. Hans-Joachim Müller / Munich
Hans-Joachim Müller has been Chairman of the Supervisory Board since 2017. He has a doctorate in Chemistry from Ludwig-Maximilians-Universität in Munich, one of the leading research centers in Europe. Following postdoctoral work at the University of California, Los Angeles (UCLA), he began his industrial career at a German chemicals company and worked for a time in Hong Kong, where he was responsible for inorganic products in the Asia Pacific region. He then went on to work on the management board of a leading specialty chemical company. In his current position as Group CEO at Azelis, he is responsible for implementing strategies and achieving defined goals for the shareholders.